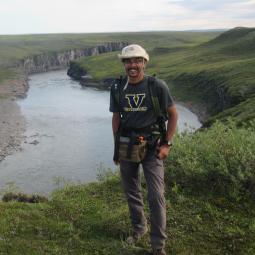 From Kincardine Ontario, Robert is currently studying the sedimentology and stratigraphy of the Husky Creek Formation in Nunavut Canada. The key objective of this research will be to characterize the depositional, tectonic, and basin setting of the Husky Creek Formation, which will be achieved through sedimentological, stratigraphic, and structural analysis. Petrography, and detrital zircon geochronology will be utilised to establish the tectonic setting, sedimentary provenance and to refine the age of the sedimentary basin. Further analysis of the more resistant minerals, such as zircon, will be conducted to look for shock features related to bolide impact. The presence of shock features could lead to the recognition of an impact event in the source area for the Husky Creek Formation. Detailed work on the Husky Creek Formation will provide additional information on the understudied field of Precambrian fluvial and eolian sedimentology. Supervisors: Dr. Alessandro Ielpi (HSES), Dr. Rob Rainbird (GSC)

Robert completed his undergraduate honours thesis at Laurentian University, supervised by Dr. Michael Schindler. Complex mineralogical features along uraninite-pyrite and uraninite-galena interfaces were analyzed from hand sample to the nanometer scale to reveal the underlying mechanisms for the reduction of uranyl-bearing solutions by sulfide minerals and the subsequent formation of uraninite at the Camie River uranium prospect in central Quebec.
In 2017, Robert was awarded the GAC-PDAC Logan Student Prize and received the best undergraduate poster award at the PDAC-SEG Students Mineral Colloquium "Understanding the formation mechanism of uraninite on sulfide minerals at the nanometer scale".

Upcoming Events
Today Time: 12:00pm - 01:00pm Location: