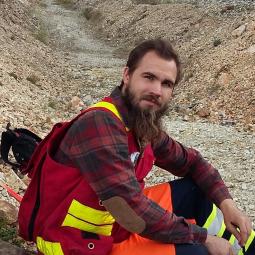 William Thomas Ogilvie
MSc Candidate Geology
My current research is on brittle deformation and the associated hydrothermal mineralisation of gold and uranium in the southern Tantato Domain of northern, Saskatchewan. The project is supervised by Dr. Bruno Lafrance and Dr. Daniel Kontak.
I received my bachelors degree in geology from the University of Regina, Regina, Saskatchewan. My undergraduate research was on ductile deformation of mafic dykes in the Tantato Domain and was supervised by Dr. Kathrine Bethune. My graduate research is on the brittle deformation affecting the rocks of the Tantato Domain and the gold and uranium mineralisation that are associated with it. The goal of the research is to map faults, fractures, and veins across the southern Tantato Domain, conduct paleostress analysis on those brittle deformation features, conduct petrographic analysis of vein and alteration mineral assemblages, and attempt to constrain pressures and temperatures of mineralisation through fluid inclusion studies. The second goal of the project is to map brittle deformation, including joints and deformation bands, in the nearby Athabasca Basin and determine if there is any correlation with the brittle deformation mapped in the Tantato Domain. The Saskatchewan Geological Survey has supported both my graduate and undergraduate research logistically, financially, and through mentor-ship and advisement by their geologists while in the field. Currently, I work as a senior geologist for Kinross Gold Corporation while completing my graduate research.

Publications: Ogilvie, W., Lafrance, B., Normand, C. (2017): Brittle deformation and associated hydrothermal mineralisation in the southern Tantato Domain and northern Athabasca basin, Saskatchewan: In Summary of Investigations, 2017, Volume 2. Saskatchewan Geological Survey, Sask. Ministry of the Economy, Misc. Rep. 2017-4.2. Paper A-13. (In Press).
Upcoming Events
Tuesday, May 7th Time: 06:00pm - 08:00pm Location: Laurentian University - Harquail School of Earth Sciences, Willet Green Miller Centre, 935 Ramsey Lake Rd, Sudbury, ON P3E 2C6, Canada





Thursday, May 9th Time: 06:00pm - 08:00pm Location: 25 Adelaide St E, Toronto, ON M5C 3A1, Canada, Suite 1400